Important Update: Please note that Melbourne SEO Services no longer supports, recommends or endorses Content Crooner. Please keep an eye out for updates on our recommendations coming soon.
Looking to buy (or already own) Content Crooner? Click here to grab these free bonuses.
Content Crooner is one of the services we use to distribute our articles. Read below to find out why this is part of our SEO Method.
Are you looking for an easy way to get plenty of backlinks to multiple sites to increase your exposure and rankings? If so, Content Crooner may be the answer for you. Content Crooner is an article distribution service that boasts having the most comprehensive article distribution list around. Their automatic article distribution gives you wide distribution, many links and more traffic than you ever had before. 
Your article will be distributed, amongst other places, to Google, Bing, GoArticles, Ezine Articles and will even be linked to social media like Facebook and Twitter. This service is a way to bypass the tedium of manual article submissions forever. They even provide personalized coaching and advice from their free article review process.
All you have to do is write a unique article and submit it into the system and Content Crooner will take care of the rest for you. They will post the article to hundreds of sites and article directories without you having to even worry about setting up accounts for those sites. You can schedule your article posting so your links will be drip fed for up to twelve months from submission for a natural link building pattern.
For every article you publish you get hundreds of backlinks. Once you submit your article to Content Crooner, it is published in as short a time as two days. As new sites are added to the network, previously published articles will automatically get distributed to these new sites.
Every article is reviewed by the computer and by a live reviewer. If they find any issues that might prevent the article getting published, they get in touch with you and help you resolve the issue. This ensures the quality of all articles and increases posting rate.
You can submit as many articles as you like, there is no limit. You simply pay a monthly membership fee and this covers everything.
You are also able to monitor your campaign's results with their article distribution and exposure reports. Trying to track hundreds or thousands of articles would be almost impossible, but Content Crooner does this automatically for you in one central interface. This allows you to easily track your articles in the major search engines so you can further boost the articles that are ranking well and uncover easy to rank for long tail keywords.
To get started and to try out the service, you could test it on a few of your sites and see if your rankings are positively affected. If you are disappointed with the results, they do offer a thirty day money back guarantee.
We have used Content Crooner to great effect here at Melbourne SEO Services and have been pleasantly surprised with the boost in rankings we have been able to achieve, especially for low to medium competition long tail keywords. Some of our articles have sticking power and have been at the top of the search engines for over a year. By clicking the link below, you can give this service a try and find out the many benefits for yourself.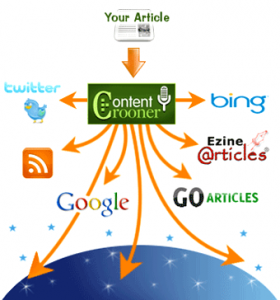 Ps. If you'd like to read another Content Crooner Review – Click here.