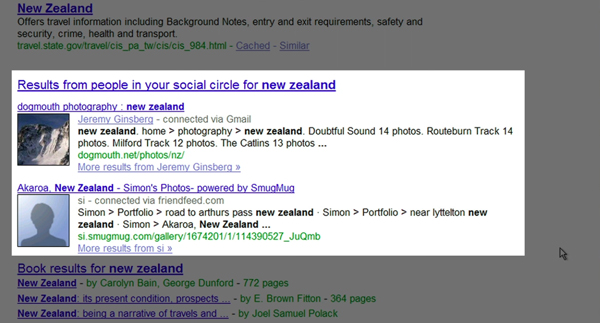 In Google's ever long quest for domination, Google Social Search has been unleashed. Now, I sense some confusion in a lot of people when it comes to what this means for them. In part, this is going to turn the relevant search engine results upside down. Will SEO still be relevant? Will social media marketing take over from SEO? Who knows, either way, I shall explain exactly what this means in brief format.
Up until now, when a user has searched Google for a keyword or phrase, Google has returned results that are relevant to a user, based on website popularity, relevance, and so on and so forth. What Google Social Search does is quite cool, but is going to take some mapping out by the SEO guys in order to get one in front. Let's put an example to you…
Let's say I am searching for information on the iPad in Google. I registered my social media profiles in my Google profile. Not only will this return relevant results to me, it will do something else that is pretty cool. It will also send me relevant results that my friends on social networks are talking about. Imagine Google saying "Here's what I found in the phone book, but your friends are talking about this! Maybe you should check these out first!". Let's not forget to mention that this is built into the Google search engine, so all you need to do is search using Google.
So, what does this mean for SEO? For one, not everyone has an account with Google, so ordinary organic results that are earned through good old fashioned SEO are going to stay, however for those who do have accounts with Google, your edge is going to be your ability to connect with them on their social media profiles. Twitter, YouTube, Picasa, and so on. And this goes down to a little social media marketing, not researching your market (remember, it already exists!), but finding where your market is, where they are talking about their problem, and how they want that problem fixed.
There are plenty of tools that will allow you to do this; one of my favourites is Omgili which allows for a Google style search that also returns relevant conversations that are being held in real time on the internet. This is a great way to catch the conversations in real time, and engage with these people in real time. You can also use Google Alerts for this same purpose, and have messages delivered to your Gmail inbox when new content relating to specific keywords is created online.
With Google Social Search, my philosophy on this is quite simple. You need to find your market, and market your offerings directly to them. Not to say that SEO will disappear, personally I believe that SEO will be around for a long time to come, and will play an important part in winning those people over who are still yet to create their own social media profiles. Here are a few quick tips for those who want to press their message to Social Media:
1.    Create at least 4 social media profiles on Social Media networks such as Facebook, Twitter, LinkedIn, and MySpace (depending on your market type)
2.    Create an automated way of distributing your newly created content to these profiles using a combination of TwitterFeed and Ping.fm
3.    Tweet something compelling at least 4 times per day
4.    Don't be afraid to touch base directly with your followers (using Twitter reply and direct messaging, etc)
These are only four examples of what can be done in order to engage your followers, and attract others. Remember, with Google Social Search, your followers are going to start seeing the relevant content that you share with them in their search engine results. One of my favourite quotes is that "companies don't sell a product, people sell a product", so let me ask you this. Are your followers more inclined to buy from a search engine generated result, or from a related Social Search result?
---
Recent Melbourne SEO Services Blog Posts: