Here's a Snapshot of How Posterous Might Just Transform Your Social Media Marketing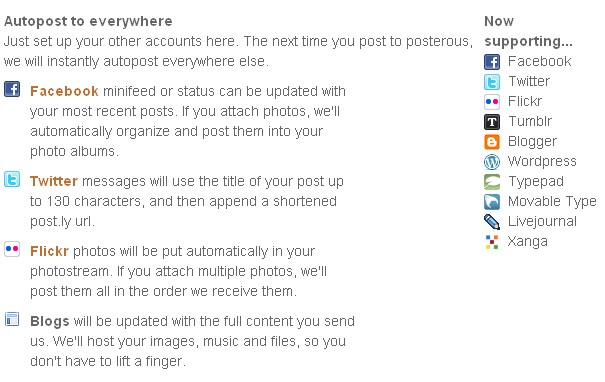 But this is only the beginning, let me explain…
When a new social networking web site or blog provider starts rolling out their services, there is always a high risk that it will simply be a flash in the pan. Posterous has much more promise than this. Yes, it is a blogging platform, but more on the level of being a content distribution service for social media marketing. Think of what Tube Mogul does, but change that into a more interactive process that includes social networking websites such as Twitter, Facebook, and other blog providers such as Facebook, TypePad, and even self-hosted Movable Type blogs.
Imagine Having All Your Social Media Efforts Fully Integrated and Being Able to Publish Everywhere Instantly…
That's what's at stake. So, let's say that I have a Posterous account. I would like to post a blog. There are two ways that I can do this. I can either use the web interface in my blogs admin panel, or I can simply e-mail a blog post no matter where I am, and this will be published. I can also attach images to this e-mail, along with video and audio, however this is only the beginning of the process. I can also notify Posterous what other accounts I have elsewhere, and Posterous will automatically update statuses on Twitter, and Facebook. Not only that, but I can also have my blog posts re-posted at other hosted blogs such as WordPress and Type Pad, and even update status messages on YouTube, send images to Picasa, and much more. Currently there are 28 services that are supported, plus the rare feature that allows updating on a custom page that you have created on FaceBook. Normally this is a difficult process, however Posterous have developed an application for doing just this, and it is literally within the click of a button.
Why are so many people talking so highly about Posterous? From an SEO standpoint, if you have a product that you are trying to sell, social media is one of the best-selling tools that you can possibly use. Social Media is a means of creating an online persona that the consumer can relate to, and ask questions. You can also ask the consumer questions, which will in turn result in more interaction. This can be a lengthy process, and a lot of SEO Experts do tend to outsource their social media interactions to other people. Posterous allows for at least 50% of this interaction to be centralized. You write a blog post, all of your followers on Twitter are notified, as are the followers of your other blog on WordPress, and the same for those who are fans of your page on Facebook. This of course can also result in the domination of the front page of your keyword results in Google if you effectively use the right keywords, and can generate valuable back links as well.
Of course, there are many blogging platforms out there such as WordPress, TypePad, Moveable Type, Blogger, and many more. These are all great platforms, which probably plays a good part in the deciding factor as to why all of these platforms are supported by Posterous. The level of control within Posterous is second to none, with custom domain names being allowed, not just in the form of a top level domain name, but also in the way of a subdomain, which is great for those who want a blog sub domain to help boost the credibility of their main domain. Built in analytics is something that is also available, not in the way of their own custom reporting such as what is available with WordPress, but more in the way of Google Analytics. Feedburner is also supported. If you have people who would like to contribute to your Posterous blog, you can also sign them up as a contributor, which will allow them to post as well via e-mail.
Why not give it a try. Simply send an e-mail to post@posterous.com using your title as the blog headline, and the body of the e-mail as your blog content, and you should get an immediate reply with your new credentials. Told you it was that easy!
We'll be trying out Posterous more and more over the coming months and will give everyone an update once we know the full story.
---
Recent Melbourne SEO Services Blog Posts: