Looking to buy (or already own) Unique Article Wizard? Click here to grab these free bonuses.
Unique Article Wizard is part of a set of tools we use in the SEO Method. Find out why we like this service.
Are you looking for an automated article marketing solution? Unique Article Wizard is an article distribution service that submits your article to hundreds of article directories and blogs. UAW has been around for a while and the number of sites in the network is over 10,000. The network is more about link volume and not so much link quality.
The way UAW works is you submit three different versions of the same article into their system. The content must be in the form of articles and not blog posts. These can be spun articles and within the system you can further spin more copies so you have a lot of different articles of varying uniqueness being submitted to the directories. 
To avoid devaluation of spun articles due to spin detection, you do need to vary your article lengths and wording. Don't replace words but spin entire sentences when spinning, vary the length of the paragraphs, vary the anchor text and vary and rotate your resource boxes.
With UAW you can resend articles out to their network, so it is a good idea to place different anchor text in the body of each of the three seed articles you create, then publish to only the most theme specific categories at first to have the first set of submissions going out to fewer places and at a low submission rate of ten to twenty per day.
Then go back to your archived articles and modify the paragraph's length, number of paragraphs and place your anchor text in different parts of the article. When you resubmit the article, choose different categories in the hope that these resubmitted articles will get placed on different sites in the network.
Unique Article Wizard allows you to include four links in every article, two in the body of the article and two in the resource box. After the article has been checked by an administrator, your article is submitted to thousands of sites on the network. You should get close to a thousand links per submission. You will also get notification about how many times the articles that you submitted using UAW are showing up in the Yahoo index. This is a very handy feature which you don't get with other article marketing software apps.
UAW is most appropriate for low competition keywords. They have even teamed up with an article writing service now which will write articles for you in three different 'spun' versions and makes the upload of the articles to UAW as simple as the press of a button.
We use UAW here at Melbourne SEO Services in conjunction with other linking strategies to get our sites ranked. It may not be as high quality as some other networks, but it is still a very useful resource to have. Why not click on the link below and test it out for yourself?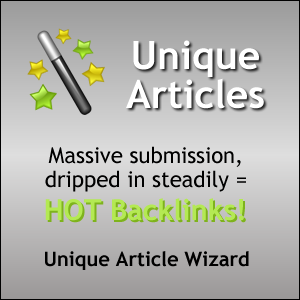 Ps. If you'd like to read another Unique Article Wizard Review – Click here.