Want The Most Valuable Keywords For Your Business? Want Improved Rankings? Want It Fast? It All Starts Here…
Search Engine Optimisation (SEO) has changed quite a lot lately, but what has remained the same is the fundamental requirement to get your keywords right. With nearly 120 billion monthly searches performed globally, search engines are still the primary way Internet users navigate the web, make decisions, and find important information on products and services.
What's that mean? It means, regardless of algorithm updates, the internet still revolves around keywords… until the day arrives when search engines can read your mind.
But how do you learn which keywords are most valuable for your business? Where do you start? How many should you target? What are you currently ranking for? What should you be ranking for? Oh, so many questions…so little time!
Thankfully, Melbourne SEO Services can answer these questions easily and quickly with our extensive Keyword Report. Our expert team does all the work for you, so you can continue focusing on your business while we analyse tens-of-thousands of potential keywords, phrases and terms.
Here are some samples from the report.
keyword research service…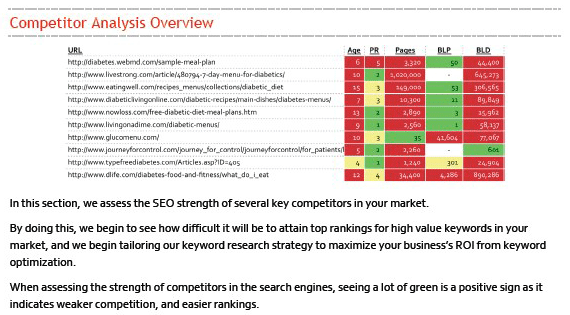 Here's what you get from the best
Here's what you get from the best keyword research service…
A 40- to 100-Page Report
Main Keyword Recommendations – The Most Value & Highest ROI
Measuring & Assessment of Potential Profits Around Each Keyword
In-Depth Competitor SEO Analysis & Chances of Ranking For Each Keyword
Uncover Hidden Long-Tail Keywords
Link Keywords to Existing Pages On Your Website (Where Possible)
Full Stats & Research To Back-up Our Recommendations
Complete Explanation Of The Methodology Use & How To Understand The Findings
Specific Action Plan For Using The Report To Your Advantage
What's your investment?
While other agencies and consultants out there will charge up to $5,000 (or more!) for this kind of information, Melbourne SEO Services in-depth report comes at a one-time investment of only $697 (+ GST where applicable).
The Fact Is…
SEO has changed, but the importance of keywords hasn't. Feel confident knowing we'll provide you with the most extensive keyword research available. What's more, if you need help implementing any of the action plan, we can do that, too. 🙂
What to do now…
Regardless of where you are in the world, or what size business you have, it's time to
contact us today
. We'll be in touch shortly thereafter to find out a few more details to get this keyword research service underway.