Melbourne SEO & Video's Story.
We could say…
"Melbourne SEO Services is a leading Australian search engine optimisation (SEO) company providing services tailored to our clients' unique business needs. We assist clients across the business sector from small businesses to large corporations. Blah Blah Blah…"
You've heard all that before right? But our story isn't quite so typical…
Here's the story of how we got to where we are today.
Like you, we got into business to help people… to add value to their lives. And back then 'we' was just an 'I'.
David Jenyns (a successful entrepreneur in his own right – click here to read his complete bio) had a range of stock market education products. He soon realised that anyone could have the best products in the world but unless someone knows they're there, they're not really worth anything.
Passionate about helping people, passionate about business, and passionate about marketing – Dave began 9 long years of self-study. He wanted to learn everything he could about marketing, from product launches to press releases to direct mail. Being a fan of cutting edge technologies, it was only a matter of time 'til Dave turned his attention to marketing online.
In the early days, Dave blazed his own trail, educating himself from the ground up. Back then there wasn't the plethora of information that's available today. Dave had to learn it the hard way, through the school of hard knocks.
He got to work learning how to build his first website using Dreamweaver. Once complete, he wondered how on earth he was going to get people to visit it. He soon realised it wasn't enough to "build great content and they will come".
Unfortunately, as mentioned, there wasn't any easily accessible information on how to drive visitors to your website. Instead, Dave had to start testing hundreds of different methods to find what worked. He tried ezine advertising, articles, press releases, banner ads, black hat SEO and that's just the start. Chances are if you can think of a traffic source, Dave's tested it.
Overall, Dave will tell you he's found more traffic sources that don't work, than do.
Then he figured it out! He began to understand SEO. From that moment, almost every website he worked on was profitable practically from day one. Quite simply, he was focusing on what worked!
Like an overnight success (6 years in the making!) Dave started to hit the 'home runs'. He was dominating his niche, the stock market, taking #1 positions on Google left, right and centre. As you can imagine, Dave started to gain quite a lot of attention – especially in the media.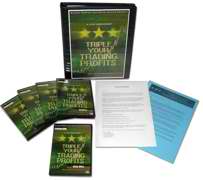 One of our Dave's early trading education products.
Selling the MCG for $24.95.
Dave's always been entrepreneurial, watch him on the Today Show and see how he sold the Melbourne Cricket Ground (MCG) – Australia's most love sporting ground.
Back to our story…
Then it was his colleagues asking how he managed to knock them off Google. Then it was friends of friends who wanted help with their websites. Dave helped as best as he could, but things started to become unmanageable. Not only was he building his own successful business in the stock market, he was also helping many others do the same in their niche.
By this point Dave already had a small team helping grow his companies. Being knee deep in business, the last thing he ever thought of doing was running an SEO company… But after repeated requests for his SEO expert services in Melbourne, and his team all pushing for it, the call became too great. He and the team decided to get into the SEO game. Thus the 'I' became a 'we'.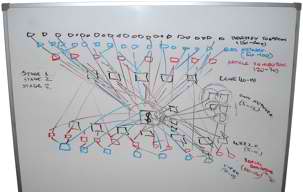 But before we even thought about opening the doors to our clients, we wanted to ensure we knew what we were doing. Sure, we had dominated the 'stock market' niche but we wanted to see just how far we could take it. Being testing maniacs, and not wanting to offer anything but the best, Dave and his team built a system for promoting websites.
After 14 months of testing on 583 different domains, guess what?! We proved beyond a shadow of a doubt, this stuff works!
With all that testing now behind us, it's now with great pleasure we introduce Melbourne SEO & Video. Probably the world's best SEO company.
Experts in Authority Content.
In fact, we wrote the book on it!