We're More Than An SEO Company, But Don't Take Our Word For It, Here's What Our Clients Think…
Featured in:










We worked with:










"Dave has helped in a number of ways
that go beyond simple coaching"
To read more testimonials, download
our Client Case Study Report.

---
And a few of our own rankings…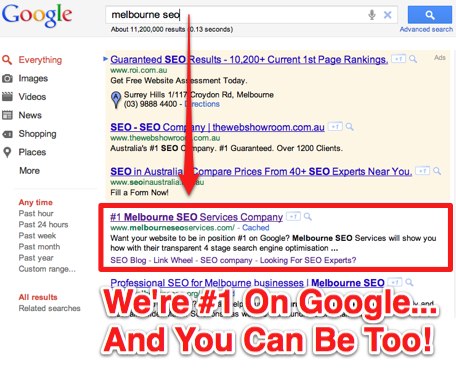 We've ranked over 583 domain names while perfecting our '4 Stage SEO Strategy' and, as you can imagine, we've learnt quite a bit along the way. If the above testimonials are anything to go by, we're doing something right! If you're still not convinced, here are a few more screenshots and testimonials to demonstrate we know what we're doing.
Before the 'I' became a 'we' in the Melbourne SEO Services story, David Jenyns made waves in the trading niche.  His prominence in the search engines gave him the competitive edge over other trading coaches online.
Watch the video below to find out more behind Dave's high profile in the world of trading:
And then came Melbourne SEO Services. Watch the video below to see how we rocketed to the top almost overnight…
---
Here's a few extra audio interviews with some people who use our SEO Services:
George Germanos – www.alliancesoftware.com.au
Click here to download the MP3.

Evan Rubenstein – www.actioncoach.com/evanrubenstein
Click here to download the MP3.

Jeff Gardner – www.motorhomes.com.au
Click here to download the MP3.

Piotr Dancewicz – www.goodgood.com.au
Click here to download the MP3.
Jason Hart, Melbourne Ceremonies – www.melbourneceremonies.com
Click here to download the MP3.

Karine Hart, Melbourne Ceremonies – www.melbourneceremonies.com
Click here to download the MP3.

Steve Russo, Sydney Tint Solutions – www.sydneytint.com.au
Click here to download the MP3.
---
And if that wasn't enough, here are some case studies with some of my consulting clients…

"I am lucky enough to have been involved with David from the start.  His continuous enthusiasm, and drive to be the best he can be, has resulted in one of the soundest, most admirable, positive, and successful people I know.  It has also inevitably resulted in him adopting a thorough and above all honest approach to everything business-related he does (which in this day-in-age, is a breath of fresh air).

Through David's mentoring, I have learned the key methods to enable our websites to reach the top of Google, and as a result, we have completely ceased all of our traditional advertising methods, and as such, have saved a significant amount of funds.  Most relevantly, through implementing David's sound techniques, the traffic we have generated by far exceeds the amount we were able to get through the various traditional methods of advertising.

For literally any business, I whole-heartedly recommend David's services, as they give you the opportunity to reach a global audience practically overnight, at a fraction of the price of other advertising methods.  And most importantly, you can be certain that you are in good hands, as David and his team are the most trustworthy, ethical group of people I have ever been privileged to know.
Thanks again David and co., you've allowed me to realize all my business dreams, and have removed the most annoying (but essential!) component of business – generating customers.  Thankfully now, I can focus on the parts of business I love doing most, and rest assured that David and co. will take care of the rest."
Adam Claydon-Platt
Director – boobooSKI Pty. Ltd.
www.boobooski.com
477 Punt Rd South Yarra VIC 3141 AUSTRALIA
---

"To be honest, I was a bit sceptical coming into this because I didn't really understand what SEO was. I knew our website wasn't appearing on google, but I wasn't sure why, or what could be done about it.
Melbourne SEO Services was recommended to me through a friend, and I agreed to give them a go. Now that more than a year has passed, I can say without a doubt, it was the best decision I made for my online store!  I say that with ease because, within the past 12 months, the sales have increased by 62%!
I'm really proud that my website now appears #1 on google for hundreds of keywords (I like to check every now and then myself – and am always pleased to see my site continuing to top the pages!). With well over 1,000 new visitors every day, combined with my continued relationship with Melbourne SEO Services, I'm expecting to easily exceed last year's sales!
We tested a lot of other marketing methods in the past, but none came close to matching the success we've experienced with Melbourne SEO Services! Their team is helpful, knowledgable, and – last but not least – one of the major driving factors as to why my online store is growing exponentially..without any signs of slowing!
If you have an online business, I can only say: What are you waiting for? Melbourne SEO Services is the best of the best!"
Shawn
Director – Planet13.com.au
Level 3, Greensborough Plaza Shopping Centre, Main Street, Greensborough, VIC
---

"Firstly David is just that rare person, a truly excellent teacher. It is clear that he not only
knows what he is teaching but trusts it implicitly to work because he has tried and tested it
hundreds of times." Click here to download the full PDF testimonial.
Sandy McDonald
Director – Chameleon IP Pty Ltd
PO Box 49 Ivanhoe VIC 3079 Australia
---
Still looking for more proof? Check out this amazing client case studies.