Want To Learn The Exact Method We Use To Rank Our Own & Clients' Websites Post Google's Penguin, Panda & Hummingbird Updates? Click Play.
Click here to visit our dedicated website to this product: AuthorityContent.com
Introducing Authority Content: The complete all-in-one digital training course that teaches you everything you need to know about how to get found online! This is the exact system we use to train our team here at Melbourne SEO! Now includes The SEO Method versions 2 + 3 as a bonus!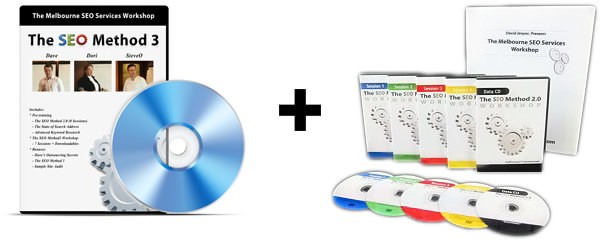 100% digital download. Order now & gain instant access.
---
Here's what you'll get when you order the Authority Content Digital Membership…
Professional recordings from the one day workshop ($300 value)
All the downloadables – videos, mp3s, transcripts, session slides & more
Pre-training & grounding material:
The SEO Method 2.0 + 3.0 workshop recordings ($300 value)
But what's in the course? Here are a few of the topics covered:
Session 1
Where's Google headed now? And how you can stay one step ahead.
Why being #1 in your market is not only more profitable but also easier, simpler and less stressful.
What Authority Content is and how you can use it to your advantage.
The 3 P's and how to systematically use their framework to crush your competition.
The single best activity you can do in your business to clone yourself.
Session 2
How to read your prospects' minds to create content that compels them to buy.
The quickest, easiest and most cost effective way to generate content.
The strategic way to align yourself with the "players" in your industry and have them promote you to their best clients.
The entire process of how running workshops can bankroll themselves and create instant authority for you.
Session 3
How to create information products that pre-sell themselves, and encourage consumption of your products/services.
The key ingredients of a great product and my best re-purposing secrets.
How to build irresistible offers that compel people to buy instantly.
The 5 step launch process that ensures you're cash-flow positive from day one.
Session 4
How to get twice the search engine traffic, in half the time, at half the budget.
The 8 step content syndication system that Google proofs any website.
What most SEOs never get about online marketing and why they're missing the boat.
How to quickly spot winning content and leverage it for maximum profit.
Our unique step-by-step process for promoting websites and building authority.
Session 5
Real world case studies, giving you ideas you can swipe and deploy into your business.
What stops most people from reaching success and how you can not be one of those people, and be in the top 1%.
The 3 biggest hurdles you must overcome to maintain authority in any niche.
And that's just the start. In total there are
over 21 hours of content
and that's not including the bonus section. In this course, David Jenyns explains everything he knows about SEO as it stands today, and the methods he uses to rank websites #1 on Google.
The fact is, we could easily charge $1000+ for this course, especially when you consider what live attendees paid or that we charge $1500, minimum, to work with a client. But you won't have to pay that much.
What's your investment?
Sign up for the Authority Content Digital Membership for only $395 (+ GST where applicable) – and you'll be ranking Google before you know it.
Our guarantee.
We'll show you everything we know about SEO and we guarantee, if you follow these strategies, you'll double your traffic (at minimum) to your web business over the next 12 months or your money back. The fact is we know this stuff works and if you don't think it's worth it, for any reason, just let us know and we'll refund your purchase 100%. We can't be any fairer than that.
What to do now.
Whether you're in Australia or anywhere else in the world, go ahead and place your order below and we'll send your membership access details asap – it'll be one of the smartest investment decision you'll ever make.
Client Feedback.
Still not sure? Here's what some of the workshop attendees had to say about the day.
Here are the testimonials from the attendees of the SEO Method 3 workshop.
And here are some rave reviews from the attendees of the SEO Method 2.0 workshop.
"He just opens the kimono and tells you everything…" – Roger Baartz
"It was almost like a matrix" – Ian Howard
"More than just SEO" – Daniel Billingham
"Absolute wealth of knowledge" – Nick Edwards
"I wish I had built my website after I went to this course…" – John McClusky
"Clearly knows his stuff and is really good at teaching it" – Steve Ovens
"The guy's a freak" – Mark Hayward
"The standout session was the one on outsourcing" – Paul Hutchison
"He shared very freely, no question went unanswered…" – Paul Hanson
"The Initial SEO Method was my turning point…" – Ryan T Malone
"He's very honest, very transparent…" – Alan Kirke
Here are a few extra audio interviews with some people who follow my SEO method:
The Authority Content Workshop:
The SEO Method 3 Workshop::
The SEO Method 2 Workshop: