"Here's How To Become A Market Leader & Consistently Drive More Profitable Traffic To Your Website"
Most SEO agencies have it wrong. They focus on rankings and links, not revenue.
The fact is, Google and SEO has evolved tremendously over the past couple of years and unless you're using updated methods, traditional SEO could be hurting your website.
It's true, bad SEO can hurt you!
Some SEOs use dodgy tactics to try and make a rubbish website rank – some of these tactics work short term (most of them don't) but either way Google ends up squashing them with a single algorithm update.
No longer is it just about the number of backlinks. The fact is, one good quality link can beat 1,000 low quality links anyway. And who cares how many page #1 rankings you have if no one's searching for those keywords and/or they're not converting anyway?
So, what do you really want?
As a business owner, you're looking for a great return on investment for your marketing dollar (to make more than you spend). You're looking for more prospects and clients to buy your stuff.
So, let's focus on what's important! 
An online marketing strategy that positions you as the market leader, gets you more traffic, more leads and makes you more money.
The secret to succeeding online is by being seen as the market leader – to both Google and your prospects!
When you're the market leader it doesn't matter what Google throws at you (penguin, panda, hummingbird or any other animal) you still get the lion's share of traffic and sales. Clients and prospects seek you out.
And that's what we do here at Melbourne SEO Services – We make you the expert in your market with one of our 3 packages below:
Expert

$

1490

per month + GST *

Low
Leader

$

1990

per month + GST *

Medium - High
Authority

Custom

by application.

Let us take care of

all your online marketing.

Includes:

SEO, Web Videos,

List Building,

Social Media

Split Testing & More.
*Please Note: All of our packages have no setup fee, are contract free and guarantee positive results.

Using our propriety six step process – we can take your website and turn it into the most valuable asset in your business.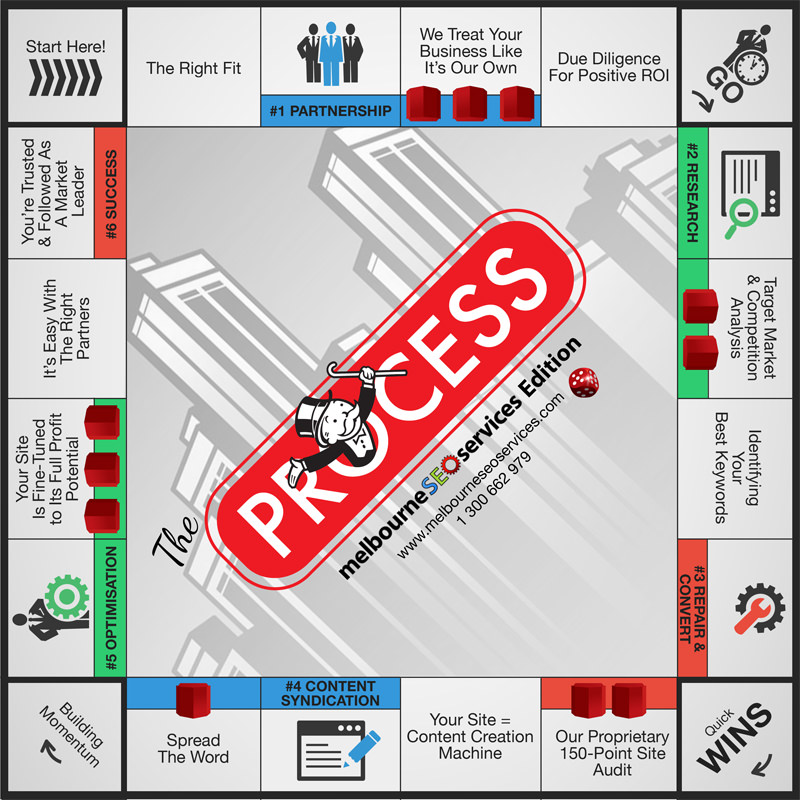 Here's how it works:
STEP 1: Partnership – The Right fit.
Because we treat your business like it's ours, we view every client as a long term partner (which makes us very picky about who we work with!).
Initially, we'll chat about adding value to what you're doing as well as getting a great return on your investment. We need to be confident we can help!
If we proceed together, a comprehensive questionnaire is completed to ensure we're all on the same page with objectives and expectations.
Then we create a benchmark before working our magic, so we can assess our progress further down the track.
STEP 2: Research – It's Crunch Time.
We get crystal clear on who your target market is, what they're looking for, where their 'hot buttons' are and what you can offer them.
Competitor Research is up first: Who are your biggest competitors? What do they do well? And where are they dropping the ball?
Around the same time, the ever-important Keyword Research gets underway: Who's ranking for what? What are the top terms? Where are the best opportunities and 'easy wins'?
Everyone's different, so getting this step right is absolutely crucial!
STEP 3: Repair & Convert – Get More From What You Have.
Our Proprietary 150-Point Site Audit will put your website through the virtual 'wringer', examining everything from website architecture, to Onpage SEO, to link profile analysis.
If the findings show your site's not SEO "Friendly" – we roll up our sleeves to repair those weak spots.
Using best practice techniques, we tweak your site so it's incredibly User "Friendly" – allowing visitors to find info, purchase, and contact you easily.
Adding more power to the entire conversion process, we then utilize Web Videos in key areas of your site.
STEP 4: Content Syndication – Spread The Word.
This is the fun bit where we turn your website into a "Content Creation Machine" by crafting engaging subject matter people want to look at and share.
During this step we focus on Offpage SEO – through content syndication and foundational link building.
Supercharging this "link outreach" process, we use effective tools such as Press Releases and InfoGraphics. Soon you'll be loved by both Google and your clients!
Tipping a bit of extra fuel on the fire, we then help you share the exciting new content on Facebook, Twitter, Google+, Linkedin, and YouTube.
STEP 5: Optimisation – Make It Perfect.
We fine-tune everything by implementing lead capture systems, free download reports, and auto-responders to help build your database.
Split-testing might even get tossed into the mix, to further push your website to its full profit potential.
Of course, we provide regular, informative reports to better assess what's working and where to improve.
STEP 6: Success – You're The Industry Expert.
By now, you're positioned as the Market Leader in your industry because of your rock solid website, amazing videos, growing social media audiences and great Google presence.
People trust what you say and 'follow' you…because you lead by example.
As all these different marketing techniques mingle together, your website traffic and conversions will naturally increase.
Allowing your industry expert status to grow, as well as your business!
What our clients say.

We had our leads doubled and tripled & it just basically escalated from there. – George Germanos


My regret is not doing it at the very start… – Alisa & Lysandra

Watch these, and many more, video testimonials here. Or …

Download some of our Client Case Studies.
From small practice professionals to ASX listed companies – Melbourne SEO Services gets rave reviews! You could be next…
So, when is an online marketing service worth $1500+ per month? When it works 😉
Many SEO companies operate with smoke and mirrors and you never really know what you're getting yourself into. To make matters worse they'll lock you into a long term 12+ month contract. We pride ourselves in being a little bit different.
You can continue getting chased about by SEO pursuing their latest gimmick. Or if we both like what we see, we may be able to work together, in which case you don't have to think about it anymore. You can sleep at night knowing you've got a team of experts who treat your business as if it were their own.
We're so confident in our work we won't lock you into any contracts – we let the results speak for themselves. We know, once you start working with us, you won't want to stop.
SEO has changed – it's time to focus on long term sustainable strategies that position you as the market leader! We lead by example so please do your research on us and when you're confident in our abilities pick up the phone 1300 662 979 or email us.
Sincerly,

David Jenyns
Director of Melbourne SEO & Video.
Ps. Got more questions? These might be the answers you're looking for?
Still not sure?
Click here to see some frequently asked questions or see some of our amazing testimonials below.
Featured in:










Just a few of the trusted brands we have worked with: