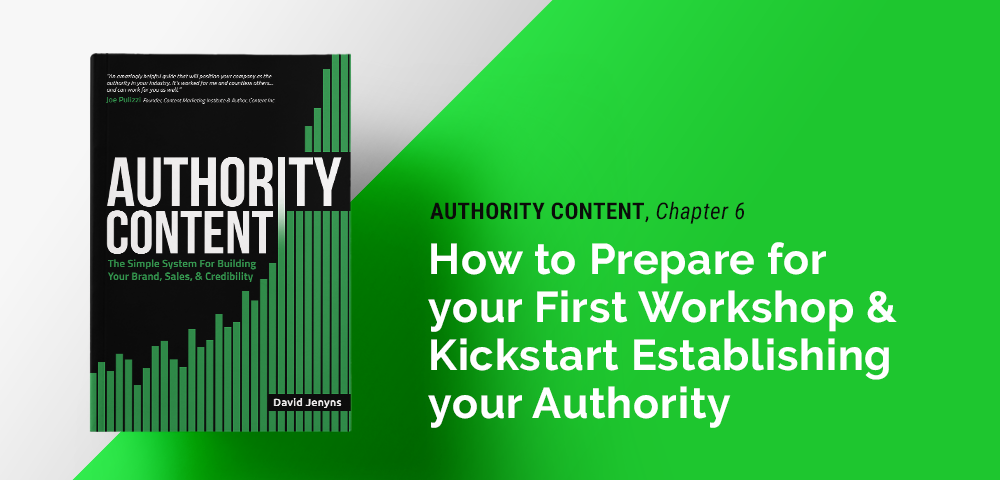 Chapter Index / Previous Chapter / Next Chapter
According to Authority Content author David Jenyns, organising a workshop is an ideal step to establishing authority in your industry. Not only can you get yourself in front of new prospects to demonstrate your knowledge and gain hours of video content to repurpose later, but you can also obtain new testimonials and create a buzz on social media around your business.
But where do you start if you've never hosted a workshop before? In this article, I'll show you how to prepare for your first workshop.
In today's post we are delighted to share another chapter from Authority Content, where David explains exactly how to prepare for your first workshop.  He lets us in on the secrets to running a workshop no matter what product or service you have, with useful information about selling tickets through to planning the day and booking a videographer.
Let's check it out!
CHAPTER 6: HOW TO PREPARE
If right now, planning a workshop feels like a colossal amount of work and too complex, expensive and time-consuming, then you're probably over thinking it.
You're not planning a convention or even a seminar… you're planning a workshop. It can be as simple and as low-tech as you need it to be.
So forget all your thoughts about hiring expensive conference rooms and high-end audio visual teams. You're getting way too far ahead of yourself. I'm going to say this now and I'm going to keep repeating it at frequent intervals.
Keep it Simple
Forget the preparation for a moment and instead, figure out your objectives. What, at a minimum, do you want to accomplish with your workshop? Your answer is probably going to look a bit like this:
Spend one day speaking to at least half a dozen people.
Record the event.
Break even on any costs.
For now, that's about it.
In years to come, when you're really good at this, maybe you can think about hiring an expensive hall, filling it with a hundred eager delegates and making a tidy profit. But for your first workshop, keep it simple.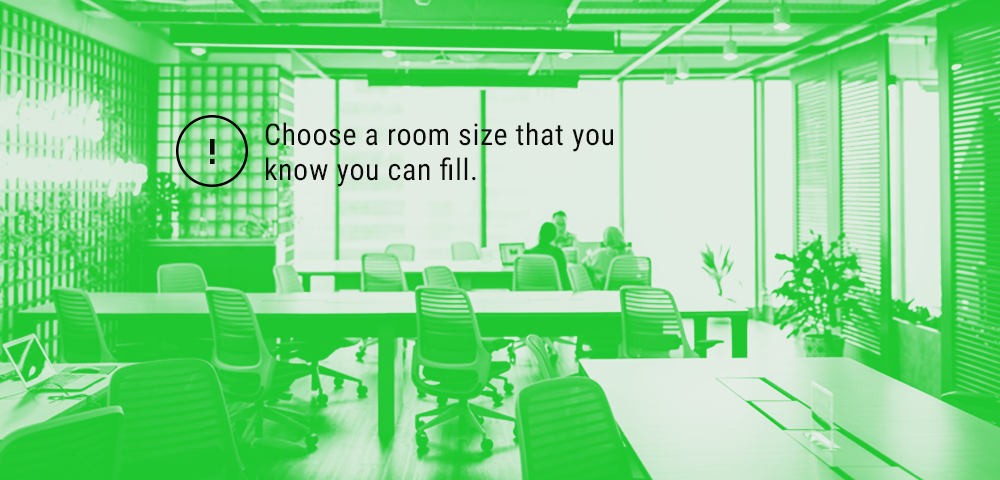 You might already have a room in your office that will serve nicely as a temporary classroom. Failing that, make a few calls to hotels or even local businesses that you know have suitable rooms and see if you can strike a deal. Once you've got a price you can afford, go ahead and book it for a date that is not more than a few months away. Now you're committed to following through.
Booking a venue becomes a positive constraint and forces you to get organised! There's nothing like the thought of a room full of clients and prospects to ensure you stay focused.
You now only have three things to arrange – inviting people to attend, preparing the content you're going to present and arranging someone to record the event.
Inviting People To Your Workshop
Begin with the invitations, even before you start preparing the content! You want to give people plenty of advance warning about the event so they have time to make arrangements to attend.
The good news is that you don't need a huge number of people to attend your first workshop, so you can afford to be choosy. Start out by inviting your best clients and any prospects you're keen to close. Make it a very exclusive, invitation-only event and make sure they feel special just by receiving the invitation.
Don't laugh, but if you're just starting out, you can also invite family, friends and work colleagues to fill the room.
The video camera is going to be pointed at you anyway and all viewers will see of your attendees is the back of their heads. They're not going to know (or care) who these people are, so make it easy on yourself and fill your room with anyone you can.
Hopefully you remembered to keep it simple and you've chosen a room that only seats a limited number of people, making it easy to get enough people together.
Inviting relevant authorities to come along and say a few words is also very effective. Whether they're going to deliver a 20-minute Q&A or a full-hour presentation, it gets an extra body in your room, adds to the authority of your workshop and makes it easier for you to fill the day with relevant content. Be strategic and think long term. Who would you love to build a business relationship with? Asking someone to speak at your event is a great door opener.
Next up, one thing you will definitely need, whether you're inviting a few hand-picked clients, emailing your entire database or inviting other experts, is a simple web page that describes and promotes your event. Even now, after running so many of these events, I like to keep this really simple. For my last workshop, I went down to the local pub and recorded a 5-minute video in which I described a problem, announced that I was running a workshop to solve it and explained what to do if the viewer wanted to attend.
You might be wondering, should you charge for attending? I would say so. Giving away tickets as part of a competition or as a bonus for making an expensive purchase is an option but I would still recommend charging something for your tickets. Your objective is to break even, so you don't need to charge the earth. But making it a paid event will also give the content a greater perceived value and make it easier to sell the material in different formats later on.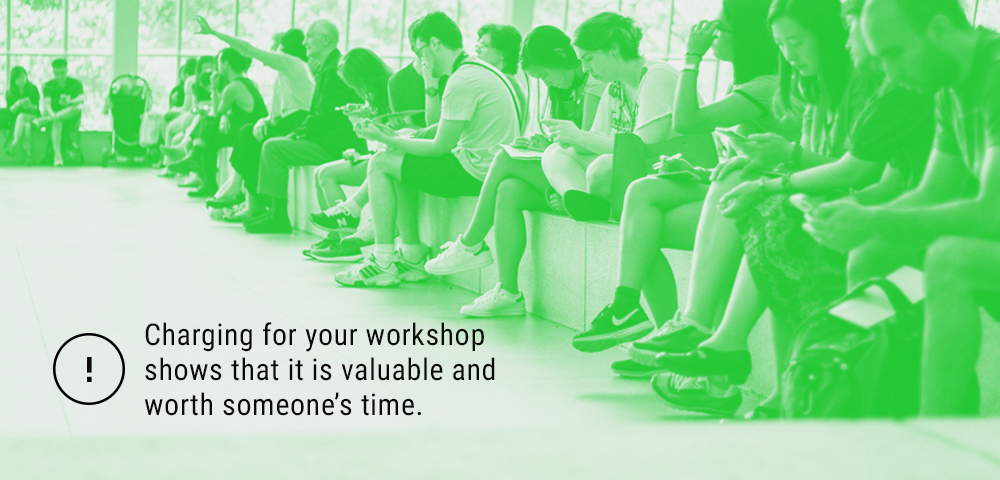 It also encourages people to attend. If the event is free, they are not losing anything if on the day, something else crops up last minute that demands their attention. People feel more compelled to attend if they've put some money down.
Finally, promoting your landing page can also be kept sweet and simple too. I hope you're getting the theme here. I like to build a little anticipation with a couple of teaser emails to your data-base or any partners you may have involved. Then send another promotional email announcing that the landing page is live, complete with an "early bird" offer in which the visitor can purchase a ticket for a heavily discounted price if they act quickly.
I'll set the "early bird" offer to expire after a week or two. Not only does a deadline encourage people to act, but it also trains them to respond when I make future time-sensitive offers. Once people realise that my deadlines are real and not gimmicks, they tend to respond quickly and take future offers seriously.
I'd also suggest a few personally emailed invitations to friends and colleagues can be a great way to get those initial tickets sold. Of course, there are a variety of ways to sell tickets to an event (Facebook, Adwords, remarketing, joint ventures) but for your first event, I'm confident you can get 5-20 people from your own existing network. Remember, just running the event is one part of the larger strategy, so you don't have to stress over numbers.
Preparing The Workshop Content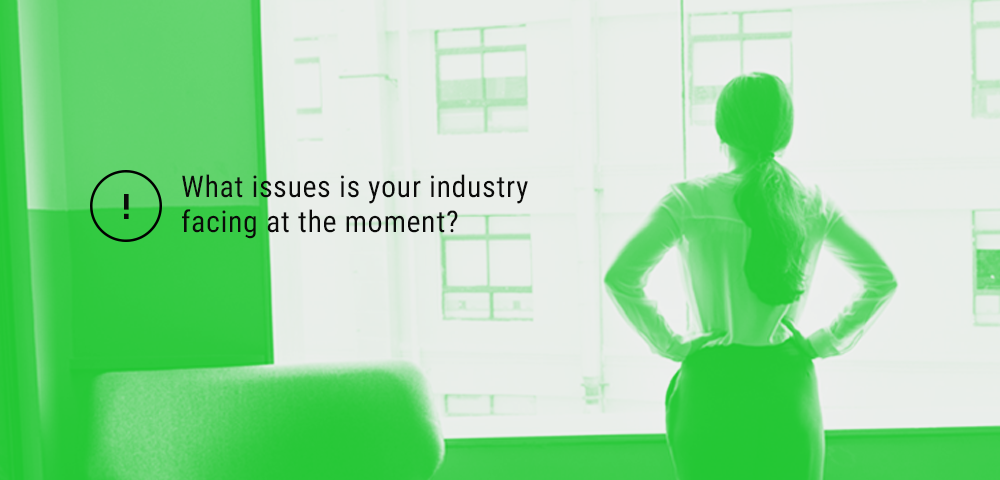 In tandem with your promotions, it's a good idea to solidify, or at the very least get more detail on, the topics you plan to cover.
Now there are any number of directions to head but it's always best to start with your target market in mind. What problems, questions and interests do they have that are associated with your products and services? You could even think about your industry as a whole and identify some of the issues surrounding it.
Another effective approach is to think about what your target market might be thinking and/ or doing that would prompt them to seek out products and services similar to yours and what content would be most relevant to them at that point.
Whether you sell products or service, will also influence the topics. For example:
Service Providers: Could present a workshop that teaches people how to do for themselves some, or all, of the services that you provide. That is, it could condense your entire method into one "crash course".
Product Vendors: Could present a workshop that teaches people something related to their area of interest, and that gives you, even if only in a small capacity, an opportunity to demonstrate your product.
Whichever direction you take, always remember the content you create will become the "bait" used for attracting prospects to your business. Selecting the right content upfront will determine who will, and will not, discover you online when we start the promotion stage – so it's important to spend a little extra time here.
Also, keep in mind you will save yourself a lot of time and effort further down the road if you make a point of creating a workshop agenda that, as much as possible, is evergreen – that is, something that won't date quickly. You'll struggle to repurpose your workshop content over the next year if it's out of date within a few months or even weeks.
If at this point you're still having trouble thinking of some topics, one of the best things you can do when faced with a marketing dilemma is to ask your existing clients and prospects what they'd like. A simple survey or quick phone call to your best clients asking, "If I were to put on a small training workshop, what topics would you find most interesting?" can uncover some great ideas.
Now, take all of these ideas and note them down, and once the initial brainstorming is done, you can organise it into a logical sequence. I like to think of this as if I'm writing the content of a book. I ask myself, what would make sense to come first? Perhaps an introduction outlining the day, who it's for, what are some of the problems you're going to solve, and what they can expect.
This can be followed by a combination of frequently asked questions, product demonstrations and case studies, explaining the process your business goes through to deliver a great product or service. I arrange such topics in the order that makes most sense. Sometimes, when I'm coaching clients through this process and depending on their business, I suggest they go wider and talk about other topics related to their industry. This is often the case for very product-driven businesses. It can also make sense to bring in other authorities and experts to cover some of these areas too.
With a rough outline, and a good idea of who might present what, it's time to get to work fleshing out sub-bullets of the most important points you'd like to cover under each topic.
Choosing areas where you know your stuff and/or are passionate about it, makes this process that much easier. More often than not, you're just presenting what you know, and while you might not appreciate its value, your audience will.
For me, the last step is to turn these topics and bullet points into slides. Obviously you'll only need to do this for your own presentations and your other speakers will work on theirs. Work closely with your fellow presenters, especially if they're not employees. Keep them aligned to the objective of the day. It's about delivering value, recording some great content and expert positioning. It's not about how many products and services can be sold at the back of the room.
Find A Videographer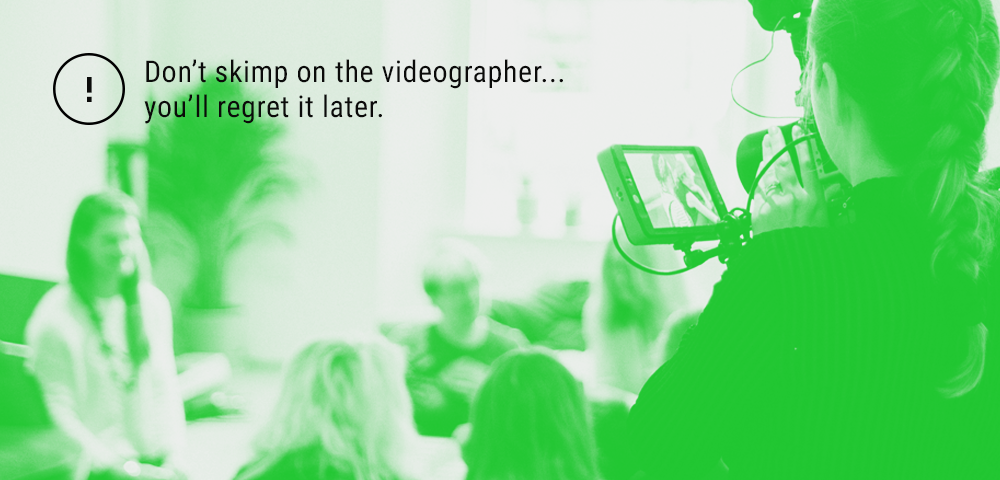 I would also recommend finding a videographer to record the event. I have had clients try to do this themselves, but unless you are a videographer, its more trouble than it's worth. I understand that sometimes when you're just starting out you're trying to keep your costs down. However, this is the one part of the process that must be done correctly. Why? Because the recordings will be the biggest asset from the event. If the audio quality is bad or the picture looks budget, you'll regret it.
For the sake of a few grand, hire a professional or, at the very least, go to a local university and find a final year student who's keen to build their portfolio. I would recommend, at a minimum, a two-camera setup, wireless lapel microphones for the presenters and one roving microphone.
It's important to capture all the action including any questions from the audience. There's nothing worse than watching a workshop recording where you can't hear an attendee's question and the presenter just goes on to answer it. It really just makes that part of the footage unusable.
Remember, the footage will become the core asset that we'll end up repurposing and syndicating around the web, so a good quality recording will make your life that little bit easier further down the line. And with that, you're just about past the point of no return.
Organising and running your first workshop may seem hugely overwhelming at first, but following David's method and advice will set you up for success right from the start. Of course, it will take some time and effort to get things right the first time, but the large number of benefits that the workshop can bring to your business certainly makes it worth it.
If you'd like to learn more about establishing your authority in your industry, you can check out David's book on his website Authority Content, or you can head over to purchase it directly from Amazon.
Chapter Index / Previous Chapter / Next Chapter