Over the last few years, it has become crucial to ensure that business websites are Google-friendly. And to become Google-friendly, a website must give users an effortless and comfortable experience in navigating and using their site.
A Brief Glimpse into Google
Google has a give-and-take relationship with business owners: they give Google access to their websites, and in return, Google indexes the content and puts them on display via its search results.
To get a high ranking and land on the first page results, however, it is up to the business owners to make an effort: by search engine optimisation (SEO).
But that is often easier said than done. SEO is not a one-time miracle boost, and you also have to keep in mind that there are thousands of other companies and businesses in your field that are also vying to rank first in the search results.
Google's Search Engine Market Share and Domination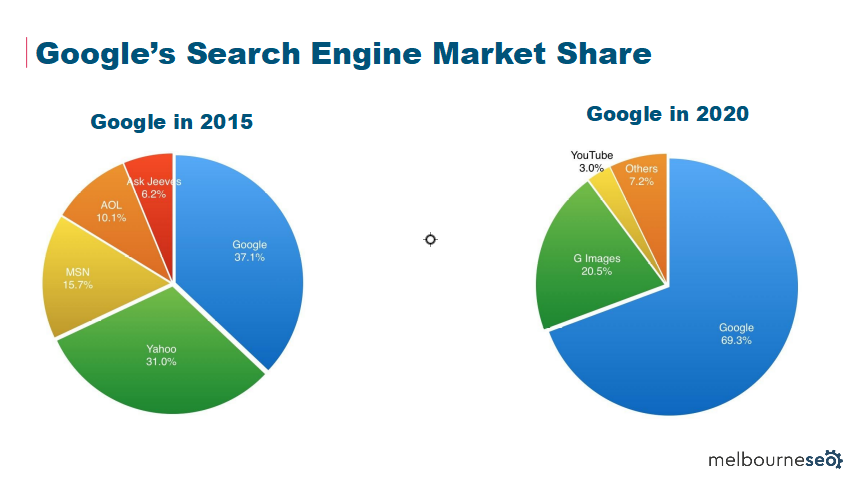 To understand further why Google has become such a big player and influence in digital marketing, let's look at its history of market shares. Back in 2015, even though Google was still an early player then, it already had 37% market share and was ahead of the likes of Yahoo, MSN and AOL.
After five years, Google has become an even more behemoth presence in the digital marketing space with an impressive total of 95% market share: 69.3% comes from Google, Google Images has a 20.5%, and YouTube, now under Google ownership, chimes in with an additional 3%.
Not only is Google dominating the market share, but also traffic. When looking at the top 250 websites that send traffic, nearly 70% come from Google-owned properties. It is significantly larger than the combined visits from Facebook, Bing, YouTube, Yahoo and other search engines. It's only natural that business owners should stick with Google then, given that the most traffic comes from there, hence the biggest potential market.
What Does it Mean for Business Owners?
With most companies relying on Google, it's become a crowded and competitive space, making it difficult to get traffic. If one wants to succeed in attracting their ideal customers, they have to be strategic and put in the hard work.
It's crucial to the success of a business to capture every potential lead there is. To do that, here are six things that business owners can improve with their website and business in the next 14 days.
Six Best Practices on How to Drive Traffic to Your Website
#1- Be clear on what you do.
The first few seconds upon landing on a site are crucial; therefore, all relevant information should be provided clearly, tastefully, and readily in that short window of time.
For something so simple and straightforward, a lot of firms fail to state what they do on their website. It's vital that the home page clearly explains who and what the business is, what services they offer or what they specialise in, in a matter of seconds. Either the lack of or an overcrowded, complicated home page can make users leave the website without clicking anything.
A prime example of a company being clear in what they do is Gordon Legal. On their website, they explained clearly who they are and what they do, stating that they are Australia's fastest-growing personal injury law firm and Victoria's most experienced Asbestos compensation team.
Gordon Legal also created the perfect follow-up to their attention-grabbing home page by providing a list of their services in the menu structure, where interested visitors can hover over the Services tab to learn more about the company offerings.
#2 – Provide contact information right away.
Websites should provide a clear way for site visitors to contact the company, be it a phone number on the home page, a list of company social media accounts, or a call-to-action button that leads them to a contact page.
Not having contact details clearly displayed is like having your customer in a store without any employees ready to assist. Many first-time visitors will have inquiries. If no one is there to assist them, or if they have to go through a lot of effort to reach customer service, they might as well leave and find another store which is easier to reach out and talk to.
#3 – Use a Call-to-Action.
Businesses should be straightforward about what they want a customer to do. A call to action helps guide visitors to the next step after learning about the company and securing a way to contact them.
Take, for example, Gordon Legal. Not only does the law firm provide a phone number clearly displayed on the home page, it also features two call-to-action buttons for their customers to use: they can either call the number they provided or make an enquiry, leading you to their contact page.
#4 – Be more visible on Google.
It is a helpful tactic for business owners to try and Google search their own company and their competitors. That way, they can study and learn more about what they can do to gain leverage over their rival brands. Do they appear on the first page results? If they do, are they on top of the list? Do they have a claimed knowledge panel? Do they have a Google My Business account? If they do, does it provide useful and updated information, and do they respond to reviews? Are there ads above the first ranking website?
A simple Google search can provide so much insight into your competitors.
Unless the service or product is extremely niched, getting to the first page results of Google requires time and effort, let alone being the top-ranked website on the first page. So what else can businesses do to be more visible in the search results and increase brand reputation while the seeds of SEO efforts are still growing?
There are several options, such as doing a small Adwords campaign, which can help brands and businesses get on top of the page results, or build a wiki page for the company. Setting up a Wikipedia page for a company is no small nor easy feat, however, as it requires notable and verifiable references. Another way to increase brand visibility is to set up a knowledge panel, which is like a business card for a company.
#5 – Set up Google My Business.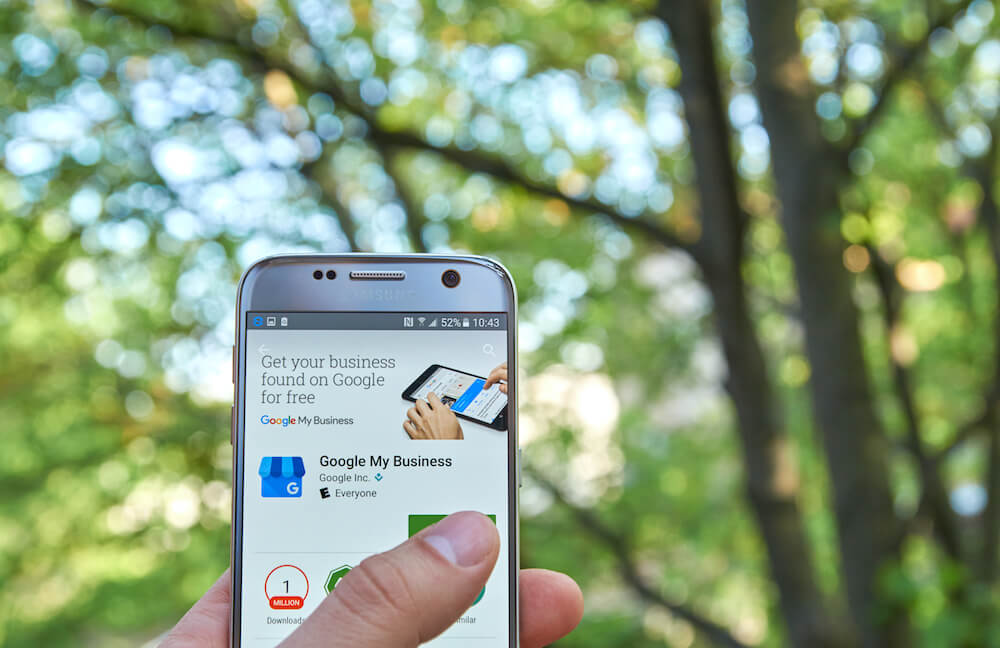 Speaking of Google visibility, Google My Business (GMB) is essential for local SEO. Having GMB set up enables a business listing to appear in the local search results for queries that are specific to the brand's products or services. It is also a powerful tool that offers an array of features useful for businesses, where they can control information and their service offering. For example, business owners can provide details regarding their product and price list, accepted payment methods, FAQs, and photos. It also offers a way to learn more about customers through analytics data.
Not only that, but businesses can also capitalise on its review feature. Customers can leave reviews on the business listing where the company can manage and respond to them as well. High-quality, positive reviews can significantly boost business visibility and the chances of attracting a potential customer.
To keep reaping the benefits of GMB, companies should take time to update information and photos often, and actively respond to reviews. A perfect example of a company utilising its GMB listing is Famous Footwear. They add their newest and most popular products to the listing and created an FAQ section that addresses their return policy, delivery fees and more. Even with a 3.7-star rating from their reviews, what places Famous Footwear in a good light is that they're actively responding to these reviews, which helps a lot in building user trust.
Despite the benefits of this tool from Google, however, a lot of businesses do not claim their GMB with the thought that it's just another fun accessory perk. What they don't realise is that competitors can claim this listing and put up incorrect and misleading details to tank the company.
#6 – Write great, original content.
Google loves content and rewards websites that constantly update and provide relevant original content. Here are some ideas that businesses can use.
Timelines / Project Updates
Timelines are very engaging content pieces that require constant updating, which Google loves. Some websites have timelines on their pages which usually detail the company history or a project's beginning and its current progress.
Completed Projects
A business that relies heavily on imagery, say an architecture firm, is likely to present their completed projects with just photos and videos. To boost SEO, it's smart to pair imagery with written content. For example, one could explain what the project is and how it came about. Not only does it help Google understand that the website is content-rich, but it also helps users understand the company and its products better, therefore improving user experience.
Team Interviews
Another great way of producing regular content is to do team interviews. Give users a sneak peek into the people running the company; users like knowing that they are following and supporting a brand that acknowledges its people. This human touch also provides reassurance that they are talking to humans rather than bots when they reach out to contact the company.
Businesses can do team interviews once a month, once every two weeks, or once every two months- depending on how large the team is.
Videos
Video content has also become a popular and effective marketing tactic over the years because they can be engaging, entertaining and easy to digest. Not only do videos build up website content, but they also allow brands to build up their social media channels, such as YouTube and Instagram.
For businesses, topics that they can use for video marketing include presenting and talking about products and services or answering frequently asked questions.
Optimising SEO Elements
Aside from the six points above, businesses should optimise their key on-page SEO elements. These are the title tags, meta descriptions, headings, images, and content. The technical, web, or SEO team are the people in charge of uploading and updating these onto every page of your website, and these elements need to be unique.
The meta description is a two- or three-sentence pitch that should show what the page is about and contain a clear call to action.
The Bottom Line
All these steps point to one thing: if a brand wants to attract its ideal customers, it has to follow these best practices to make Google love them. In a span of two weeks, businesses can learn how to improve a website and the user experience as well by clearly stating what they can do for users, providing contact details right away, and making sure their website helps them go to the next step. All relevant information that can help highlight these three steps should be readily available once the user lands on the home page.
Properly utilising the tools Google gives business owners, such as Adwords and Google My Business listings, gives a huge boost when trying to attract the right kind of customers. Google also rewards content-rich websites which offer relevant and engaging information to its users. Improving a website will also need on-page and technical SEO optimisation. Research and content are required to come up with unique and relevant keywords, title tags, meta descriptions, and content.
Here at Melbourne SEO Services, our speciality is transforming underperforming websites into lead generation machines. We tailor our strategies according to the brand's needs and standards, offering modern and unique SEO services that produce amazing results.