In this post you'll discover:
– How I sold a small website for $2000 (and you could do the same).
– Is theSEOmethod.com out of date? Melbourne SEO Training Seminar Announced.
– Download these new interviews with SEO experts (free).
1. How I sold a small website for $2000 (and you could do the same).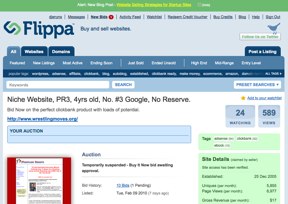 A few weeks back I heard from great sources (Ed Dale amongst others) that the buying and selling of websites was back… and back in a big way.
As you know we tested 583 domains when developing theSEOmethod.com. These were niche sites that I never had any interest in other than
just for testing purposes. I ended up developing a few of these sites into clickbank products (which are still doing quite well) while the vast majority I've done nothing with after the initial testing was complete.
Anyway, as part of my new years resolution I've decided to clear out all these projects so I can focus on my new SEO company (www.melbourneSEOservices.com). I thought  what better way to try it out than selling one of my SEO method domains.
So, a few days ago, I listed one of my sites (wrestlingmoves.org) and within a couple of days the action was already heating up. I had over 25 watches and 500+ views. I had 3 different people all contacting me to "buy it now".
Originally I thought I'd let the auction play out but when I had someone offer $2,000. I decided to take it. Not bad for a first effort! Now I'm not saying this to impress you but to merely impress upon that now is the time to start buying and selling websites.
Here's a link that shows the auction – I thought you might like to check it out and model what I did.
Click here to see the flippa.com listing.
Sidenote: I'm also looking to start selling off the other 582 domains used in developing theSEOmethod.com. If you'd like to get in early, before I list them on flippa.com, I'm happy to let a few go for as little as $80 – if you buy a group 10.
This is a massive discount when compared to the one I just sold on flippa.com If you're interested please shoot me an email and I can send you some more details.
2. Is theSEOmethod.com out of date? Melbourne Seminar Announced.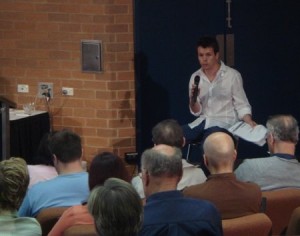 I originally recorded the videos 8 months ago and theSEOmethod.com still works like gangbusters… with that said, over the last 8 months, a lot has changed. In fact, we've now evolved our methods even further.
Would you like to see what we're doing now?
If you're based in Australia, I'd like to share with you exactly how I've made myself, and our clients, millions of dollars online, using nothing but free traffic… and how you can easily do the same. This stuff is not rocket science… anyone can do it.
I'd like to personally invite you to our next SEO workshop – click here to see find out more about our SEO Training Workshop.
Note: if you book now, you'll get in for less than half price.
3. Download these new interviews with SEO experts (free)
Have you been following along on my blog?
I've been sharing some truly amazing interviews with people who are on the cutting edge. Seriously, what these guys don't know about SEO you could write on the back of a stamp. Best of all, I'm a master at asking the questions you want to have answered… You'll discover the exact strategies they use to build online businesses from scratch.
Here's just a couple of the recent ones I've posted:
Leslie Rohde is to SEO what Thomas Edison is to the lightbulb. Click here to listen to the Leslie Rohde interview.
Ed Dale needs no introduction so i won't big him up. He claims to be no SEO hotshot but his marketing strategies are second to none, and ideal for beginners and seasoned marketers alike. Check it out here – Ed Dale Interview.
Anyway, if you enjoyed these insights please subscribe to my blog since there's many more good interviews to come: www.davidjenyns.com
Please take a moment to check it out since I'd love to hear your thoughts. Do you have any ideas or suggestion?
That's it for now… I'd love to hear from you – in fact, I'll watch out for your email.
Your SEO Coach,
David Jenyns
Director
MelbourneSEOservices.com
Ps. If you're in Melbourne this weekend, and you're going to Ed Dale's event… I'll be there. Be sure to come up and say "hi".