Have you ever looked at your customer relationship management (CRM) capabilities for your business, and thought "I wish I had a great software package that helped my company manage all of my customer data"?
Yes?
Well, look no further. The team at Melbourne SEO Services have some great news for you. There's a fantastic CRM service available which meets all of your requirements, letting you keep on top of your customer communications with a hassle-free interface and superb interoperability.
Welcome to Nutshell video review.
When we first started out with CRM, we looked at a whole bunch of different applications to provide us with the support and functionality we needed to manage our customer data effectively. We tried a range of Open Source solutions, and eventually settled with Capsule, which we used for a few months. The trouble was, it just didn't provide the functionality we needed and we knew there was something better out there.
We decided to move away from Capsule after someone recommended Nutshell to us, and we're really glad we took the leap.
We exported all of our data from Capsule, transferred it to Nutshell, and we couldn't have been happier with the results. Nutshell is intuitive, letting you track a lead from the moment it is logged, managing your database easily to export information, sorting it according to different filters and setting predefined criteria. As a business, even though we are committed to online marketing, we also like to market offline to our clients, and the functionality of Nutshell lends itself brilliantly to both areas.
So, here's why we like Nutshell, in a nutshell…
#1 – Integrates with loads of apps
Nutshell CRM is compatible with a while range of applications including Google Apps, LinkedIn, Microsoft Exchange, Olark, Twitter and more. This means you can link all of your favourite marketing tools together, using Nutshell as the hub for your CRM processes.
#2 – Wholly intuitive
There's nothing worse than finding a great software package and then realising you have to be a technical genius to get it to perform properly. The user interface for Nutshell is simple and quick to navigate, and it only takes a matter of a few minutes before you're up and running; at Melbourne SEO Services, that's a great attribute as our team doesn't want to spend hours of time learning how to use new software.
#3 – Great cross-platform functionality
Nutshell is compatible with most mobile devices, allowing you to update and manage your database and contacts from your Smartphone, iPad or any other mobile device. As the team at Nutshell like to say, "Mobile is in our DNA!" They use robust APIs to make sure that it's simple to use on the go.
#4 – Great customer service
If you ever get bored, log on to the Nutshell site and have a chat with one of the team – they are on hand 24/7 to give you support, setting them apart from most other CRM firms and proving that they really care about their customers. You can check it out as soon as you finish this Nutshell video review.
#5 – A whole bunch of services
With Nutshell, you can stay on top of leads and deals, report on sales, manage team activities, automate your sales process, access sales analytics, and sync to your Google and Exchange calendars.
Want to experience excellent CRM in your business. Drop by Nutshell today.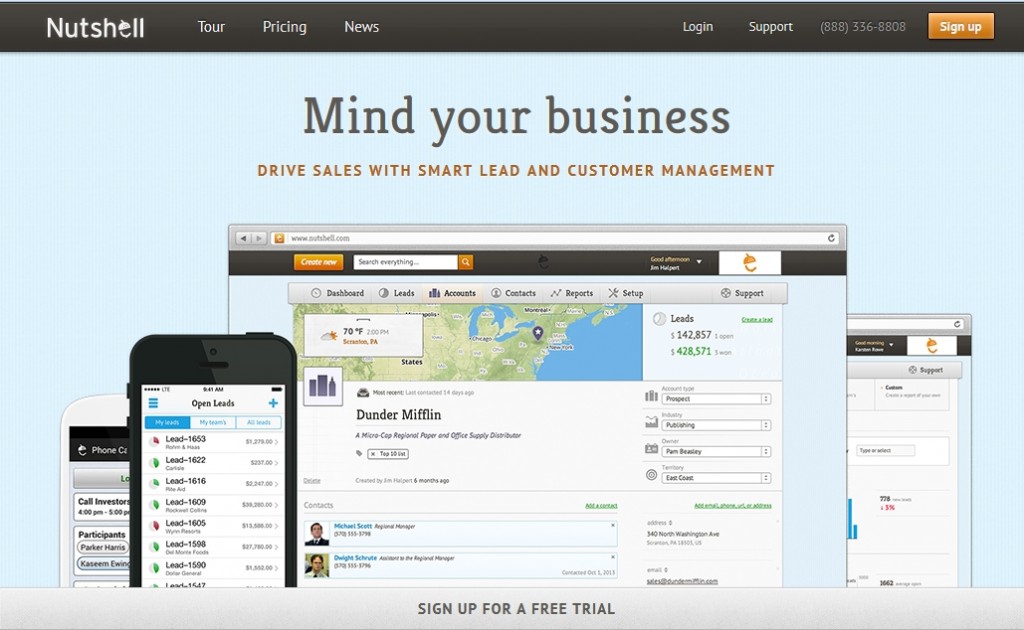 Discover why Melbourne SEO Services uses Nustshell for customer relationship management.