Looking to buy (or already own) Optimize Press? Click here to grab these free bonuses.
We use Optimize Press for squeeze and sales pages. Read below to find out why.
Do you want to find a way to boost sales of your products, build large responsive email lists and get people keen about your products, even if you don't have great technical skills or skill at copywriting? Optimize Press is a new WordPress theme that enables anyone, no matter what their skill level, to create impressive squeeze pages, sales letters, one time offers and launch funnels, among many other things.
Starting to build an email list is one of the most crucial steps you can take to launching a successful internet marketing business. Using a squeeze page has been proven to be the most effective way to build your list. Simply create a piece of content, such as a video or video series or mind map, for example and offer it to your visitor in exchange for their name and email address. OptimizePress has a range of ten different squeeze page templates you can choose from and customize. Each one has already been optimized for maximum results. 
It is just as easy to create high converting sales pages. OptimizePress lets you create sales letters and offer pages based on proven and tested designs. You can use their design elements and templates to create great looking headers for your pages. You can also easily drop in testimonial boxes, order boxes and buttons with a few clicks of the mouse.
As video is known to boost response and conversions, they even allow you to add video by using your own video hosted at Amazon S3 or on your server, or use their built in fields for embedding videos from YouTube, Vimeo, Viddler or any other video hosting site.
With OptimizePress you have optimized autoresponder integration and the capability to add bonus and one-time offer pages. You need no design or coding knowledge to use OptimizePress. You simply use the built in templates or completely customize the look of your site using their unique point and click shortcode system.
For squeeze pages, you choose your favourite template and copy your autoresponder html code into the OptimizePress input box and you instantly have a professional looking highly optimized squeeze page which will attract many subscribers.
Optimize Press is perfect for product launches. You can use their unique launch page development system to create launch and pre-launch pages with advanced integration features like twitter sharing and facebook commenting and liking. The gateway launch system remembers if previous visitors have opted into your launch funnel, so OptimizePress will know to show those visitors the pre-launch content instead of the initial squeeze page that they have already opted into.
We have used OptimizePress at Melbourne SEO Services as our theme of choice when it comes to any web pages on any of our sites where we care about the conversion rate. It has helped us achieve an increase in our opt in rates and our profits have risen accordingly.
With their month long risk free trial, you have nothing to lose by giving OptimizePress a test. Click on the link below.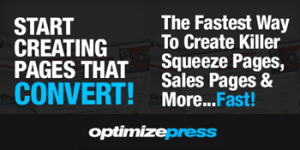 Ps. If you'd like to read another Optimize Press Review – Click here.