Who Else Wants To Discover The Simple Secret To SEO?
As a joint venture with Preneur Marketing and Storylab, we at Melbourne SEO Services have announced our next workshop to be on the 2nd & 3rd October 2010. In this two day workshop you'll learn the exact process we use for building a virtual team. One day is devoted to outsourcing while the other is everything you need to know about web video.
Click here to find out more – www.smallbizinternetmarketing.com.au
I would like to share with you exactly how I've made myself, and our clients, millions of dollars online, using nothing but free traffic… and how you can easily do the same.
This stuff is not rocket science… anyone can do it – I've proven it over and over again and I'm going to prove it to you now.
My name's David Jenyns, and I've been marketing online now for well over 9 years, I've built multiple hugely successful online businesses (click here to read my story) and now, my team and I, would like to share exactly how we do it.
This is your chance to learn the exact methods we use, to develop your own SEO campaign for your small business, sell your services as an SEO consultant or even to teach others how to do it…
Introducing The Melbourne SEO Services Workshop.
Initially developed for our own team, our workshops are unlike anything else available on the market. This is the same training we give our own staff, and a small number of outside attendees… this is your opportunity to copycat our success.
I will personally teaching you everything you need to know to be successful online… from market research through to link building, I will give you a simple step-by-step system anyone can follow. Watch the video below to see just a few of the things we'll be covering: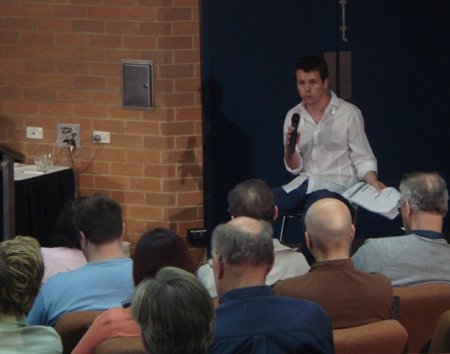 The exact system we use to get our websites #1 on google – SEO the easy way.
Why most people fail when trying to get more traffic to their website…
How to increase your website conversions by 100%+
The web 2.0 mass automation system I use to dominate social media.
Secrets to keyword research and how you can crush your competition.
How to run a virtual office and the key to living the internet marketing lifestyle.
How to hire university educated staff for as little as $5 an hour.
How to increase your productivity by a minimum of 200%
The exact business models I've used and proven to work online!
Simple copywriting tips that instantaneously increase sales!
How to use social networks effectively – Twitter, Facebook, Myspace, etc.
How to make your videos bring you more traffic with the least amount of effort.
What's working now and where we see the biggest opportunities.
And most importantly, how to pull it all together!
I actually have more information than I could ever expect to fit into a one day seminar. Accordingly, I've decided, even before you get to the workshop, I'll be sending you a few online videos to ensure you know the basics of online marketing – that way I can jump straight to my best stuff.
I'll guarantee your success… sort of.

I say "sort of" because no one can really guarantee success – it's up to you! I can show you what to do, and how to do it, but if you're a lazy S.O.B, who has never done a day of work in his/her life, then chances are this workshop (or any other workshop for that matter) isn't going to help you. On the other hand, if you're willing to put in a little work, I can show you exactly what to do to be more successful online that you ever imagined.
In fact, as long as you can follow simple step-by-step instructions, and are prepared to do a little work, you can learn to literally create traffic and money on demand. This stuff isn't rocket science… anyone can do it.
Does this sounds like something you'd be interested in? Here's the finer details…
Date: Saturday 17th April 2010
Time: 8:45am – 6pm
Venue: 215 Bell St, Preston, Victoria, Australia (15 minutes from Melbourne CBD)
Price: $997AUD SOLD OUT
Important: My primary motivation for running this event isn't to make as much money as I can from it. I want to fill the room with 20 highly motivated people who will ultimately get results and turn into my raving fans.
So, here's the deal… If you think you could be one of those people, I am providing a full day of training for anyone committed to generating income from their online website for only $997AUD SOLD OUT (that includes lunch and a workbook).
Heck, I'll even give you my own personal guarantee.
If you are not happy for any reason, before the end of the workshop, let me know and I'll refund every single penny of your purchase price (100%). Plus you can keep the workbook and lunch is on me 🙂
In short, I'm super confident this will be the best investment you'll ever make. I really hope you're in a position to take advantage of this opportunity and I'll ensure you've made the right decision.
Book Your Ticket Now:
Date: Saturday 17th April 2010
Time: 8:45am – 6pm
Venue: 215 Bell St, Preston, Victoria, Australia (15 minutes from Melbourne CBD)
Price: $997AUD SOLD OUT (includes workbook and lunch)
I look forward to meeting you in person at the workshop and together we can take your small business to the next level.
Your SEO coach,
David Jenyns
P.S. If you missed the Melbourne workshop on the 17th of April 2010, click here to add you details to our DVD wait list – we'll email you once the DVDs from the event are done – click here.
P.P.S. If you'd like to find out a little more about me be sure to, follow me on twitter, watch my youtube videos, friend me on facebook, watch my bio or http://www.davesupports.com/.