The team at Melbourne SEO services are always trying out new technologies to see if we can make our work lives easier. It's a great feeling when we find some software that delivers on its promises, and we think it's only right that we pass on a recommendation if something really works.
So, we'd like to introduce you to Wufoo – the best recent addition to our software portfolio.

We actually stumbled across Wufoo accidentally, discovering it when the firm was taken over by Survey Monkey. As long-time users of Survey Monkey, we ended up trying out Wufoo by default to see what it was like.
And we loved it!
Wufoo is a fantastic online form builder that brings a whole heap of interactivity to your website, and has a lot of other features you can use to improve your online communications, collect client information and make elegant forms.
Here's the lowdown on why you should be using Wufoo for your business…
#1 – Really easy to use
We wouldn't recommend any software to our customers without giving it a really good trial first, and Wufoo has yet to let us down. You don't have to be a technical superhero to get up and running with it straight away; it has a really intuitive interface with drag and drop capabilities that make it a complete breeze to use.
#2 – Great for managing customer data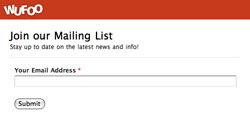 At Melbourne SEO services we use Wufoo for collecting contact form submissions from our customers when they get in touch requesting a quote. We can send out a custom-built form that collects all the information about our customers and helps us manage the data in a few simple steps.
#3 – Ideal for creating custom questionnaires
Our team like applications that we can use quickly without compromising on quality. Wufoo supports us in making great personalised surveys that we can customize with our Melbourne SEO Services brand, without having to programme any code. It's quick to use, and the results look really professional.
#4 – Helps to develop your customer data
One of the key ways you stay ahead of your customers' needs is by asking them what they want from your business. Wufoo is a great tool for achieving just that – you can set up custom questionnaires easily and send them out to your customers to find out what they think of your business, products or services. It's the easiest tool we've found for keeping in touch with what our customers are looking for, so we can meet their needs.
#5 – Choose who receives your survey results
Once you've set up your questionnaire or survey you can pick who in your team should receive the results. This means that the right person gets the right information from your online communications, making it easy to set up email forwards when data comes through from your customers.
Give Wufoo a try using their free trial option. We're sure that, like the team here at Melbourne SEO Services, once you start using it you'll never want to use anything else.