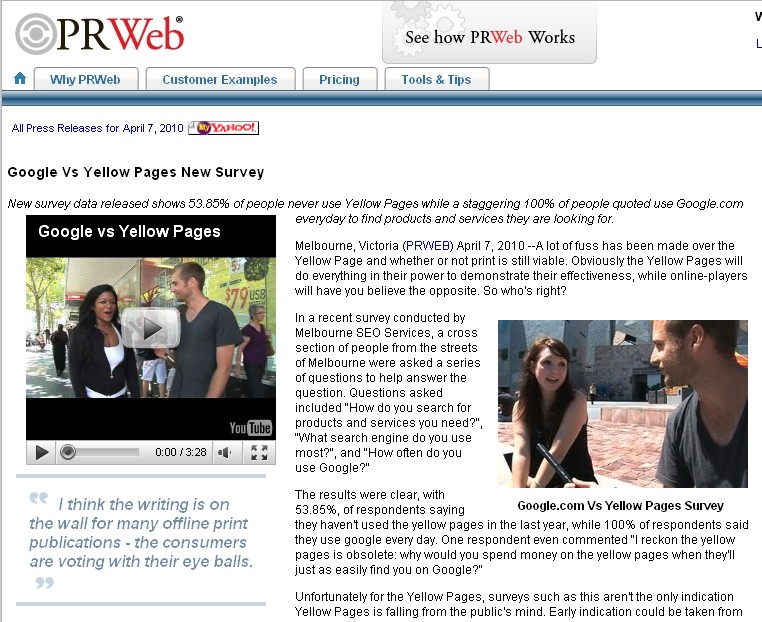 A while back now we discussed how to write a press release that hooks people. We discussed 11 ways to make your press release newsworthy and linkable so it's definitely worth a look. Well now we want to illustrate how to put those skills to best use with one of our very own press releases. The image above is a screen shot of our latest press release and you can see the full version entitled 'Google vs Yellow Pages New Survey' by following this link to PR Web. As you can see we included a newsworthy headline, a video of human interest and then vitally towards the bottom of the piece, information about Melbourne SEO Services with some juicy SEO links.
But does it fill the 11 criteria we outlined previously?
Make It Timely – You can use anniversaries and markers of history to make your news relevant to them.  EG. "10 Inmates Break Out of Alcatraz 100 Years To The Day After Its Only Ever Escapee"
Get Some Figures and Data – journalists eat statistics for breakfast. EG. "New Figures Reveal 67% of Australian Women aren't Satisfied Sexually by Their Partners"
Everyone Loves the Underdog – everybody loves the story of the underdog, it makes great news. EG. "Darren Hayes Knocks Out the 8ft Russian Giant in the First Round"
A Competition – pretty self explanatory. EG. "The Nominations For Best SEO Company are…"
Controversy -Something unexpected that will piss a lot of people off is likely to cause outcry and links. EG. "President Involved In Shocking Scandal"
Humour –  EG. "Man Marries Donkey Against His Wishes"
A Study – academia or a leading company – yes please. EG. "New Study Shows 62% of Americans Are Unaware of Their Own Obesity"
A Survey – EG. "84 out of 100 Website owners Interviewed Are Increasing Their SEO Budgets in 2010″
Riding On The Coattails – Related your story to something in the news that's getting a lot of attention. Climate change would be a good one now. EG. "97% of Australian Farmers Have Seen Their Livelihoods affected by Climate Change"
Human Interest – EG.  "Man Drives Barefooted and Naked From Sydney to Melbourne Down the Wrong side Of the Freeway at 3am"
Trends – Tiger Woods is a huge trend right now. EG. "Tiger Was Not The Only High profile Golfer Who Covered Up Adultery For Years"
I'd say we've got 2, 4, 5, 6 ,7 , 9 and 10 covered. SEO companies can quite easily ride on the coattails of their competitors; in this case Yellow Pages ailing brand can only give props to our brand. For some reason Google is so ingrained in people's minds that it seems to be a topic of human interest. So that's number 10 covered. As a general rule of thumb, the more of these criteria you cover the bigger your chances of getting some good news coverage.7 out of 11 isn't bad.
You can see the full Google vs Yellow Pages Survey Results right here…