Introducing Anchor Text And Why It Matters For Your Website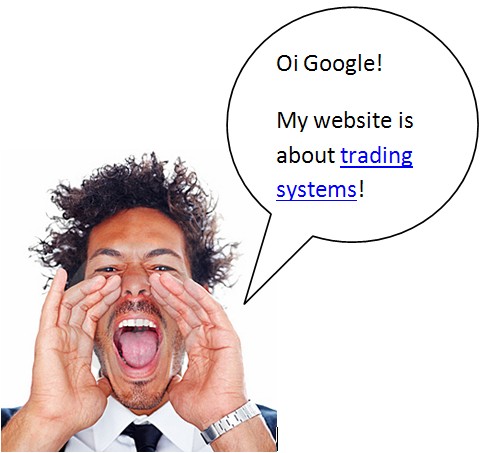 If you've been trying your hand at search engine optimization for some time, chances are you've come across the term "anchor text". The fact of the matter is that anchor text is extremely simple. Having said that its importance should not be underestimated. Its value to the SEOer (is that a word?) or anyone that owns a website is mammoth.
Here's why…
First things first, let's make sure you understand the basics.
What is Anchor Text?
Anchor text is the visible hyperlinked text on the page just like you see in the picture above. Here's an example.
Our CEO, David Jenyns, runs a successful website on trading systems. As you can see, this is a hypertext link. The anchor text shown is "trading systems". The actual url underneath is http://www.freetradingsystems.org/.  For a website to rank well in the search engines for your chosen keyword phrases you want to have as many links pointing to your site with those given keywords.
There are two factors that influence how valuable a link is. Firstly is the quality of the link. If you get a link from the BBC, ABC, an edu or a gov site then that link is likely to be worth 100 links if not more from other sites. The second factor is the relevancy of the links. Here's where anchor text comes in. If you have a link from a top trading site with the anchor text "trading systems" that is likely to be worth more than several links from a ballet website with the anchor text "ballet shoes" pointing to your trading website. It's common sense really but it's very powerful when you appreciate what it can do for your website.
Why Does Anchor Text Matter For Your Business?
It matters for two reasons.
1. Off Page Factors/ Links Pointing to Your Website/ Your Popularity
The more relevant sites with relevant anchor text you have pointing to your website the greater likelihood of achieving top rankings in Google. That is why anchor text is of integral importance to the linkibuilding stage of any SEO campaign.
2. Your Internal Site Structure
Your internal linking structure can be controlled using the anchor text from your internal links. Once you've achieved all your on-page optimization – customizing title tags and meta descriptions – you can then always link with these keywords in the navigation of your internal links. This in turn will increase the likelihood of stellar rankings.
How You Can Manipulate Your Anchor Text?
There are several great ways to ensure you have tons of high quality pointing to your site with the desired anchor text. For example, article websites let you have a resource box where you promote your site with the appropriate anchor text. The same results can also be achieved using blog networks, directory submissions and much much more.
What You Need To Do?
1. You need to make sure all your internal pages are linked to using the appropriate anchor text to improve your navigation and increase your search engine results.
2. Start linkbuilding so you outrank your competitors.
---
Recent Melbourne SEO Services Blog Posts: