Get Your Google Local Listings To The Summit Of The Search Engine With 10 Minutes Work
If you haven't claimed your Google local listing as your own yet, you might be missing out on a great opportunity for your business to feature prominently in the Google search results.
As with anything (and for the benefit of our readers with visual minds), it's always great to prove something with an example.  Please check out the Google search for "carpenter Melbourne" below.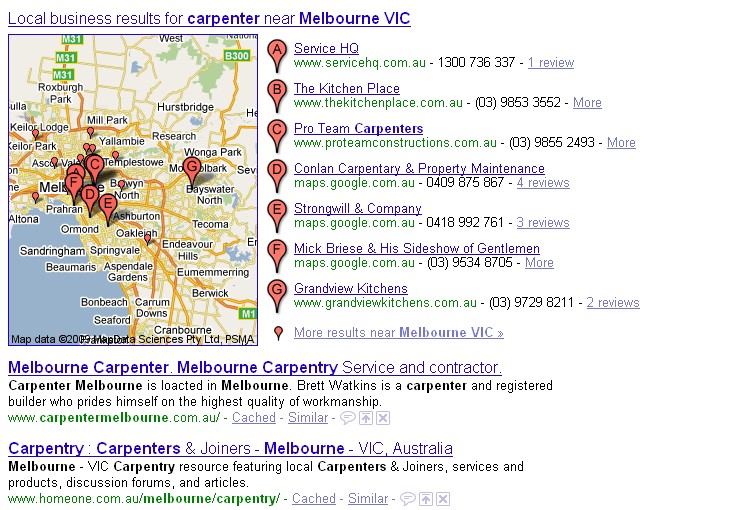 The power of Google local listings is there for all to see. The first thing any browser will notice is the MASSIVE local business results with the map that dominates the page. It's a proven fact through hundreds of eye tracking studies that they won't go to the paid listings on the right of any search, they will home in on the top of the search results.
Even more powerful is the information conveyed. Any potential customers instantly know your location, the url of your website and a phone number to get in touch with your business right away.
Can it get anymore powerful than that? The answer is most definitely yes. A Google local listing can trump SEO efforts that might take a lot of hours of work to achieve.  This is a lot less clear cut than the other benefits… but I would argue that having a listing in the local business results is more worthwhile than having the number 2 spot in the search results occupied by the Carpenter Melbourne business. One thing is for sure, Google local listings are above the fold and most of the other results are beneath.
The case for using Google Local Search for your business couldn't be any stronger.
This is all well and good but …
How Do You Get A Prominent Google Listing?
I'm sure you've heard of the old phable about the plumber or mechanic or whatever profession if can be applied to who "KNOWS WHERE TO TAP". Well, this applies perfectly to getting a good listing in the local search results. There are certain variables that you can alter to improve your positioning when you go to the Google Local Business Center to claim your listings.
Here's a few pointers:
Title: Use the business name that aptly sums up your business and not your official business name. You can try to squeeze your core services or products into your title as well.  So for example if you're a dentist in Melbourne whose core service is teeth whitening you might choose:  'Smiley Dentist – Teeth Whitening Specialist'. It's your chance to be a bit sneaky.
Address: Make this as simple as possible for Google by listing your full address, don't leave anything out.
Categories: List all your core services in the categories section
url: Definitely include this if you have a website
phone number: Include this of course, this is a core benefit of the service
description: Include your business' primary keyword in here alongside a couple of your secondary keywords. Also put where you are based in here.
GENERAL RULE OF THUMB: The more information Google has about your business the better. Include your reviews, any videos or photo galleries that display your business in a good light. The more there is, the more likely you are to feature prominently.
If you're still not taking advantage of Google local search results then now is the time you turned the tables and put that right. It will improve the transparency of your business and brand on the web.
---
Recent Melbourne SEO Services Blog Posts: