Since 2007 Google Universal Search has been an integral part of their search results. Even if you might be unsure or never heard of the phrase "Google Universal Search" chances are you've noticed quite profoundly how things have changed. Prior to 2007 the different aspects of Google's services – web/blogs/news/images/products/maps/videos etc. – were kept separate. You typed your phrase into Google and you simply got the search results. How things have changed!
Here's how things look in 2010…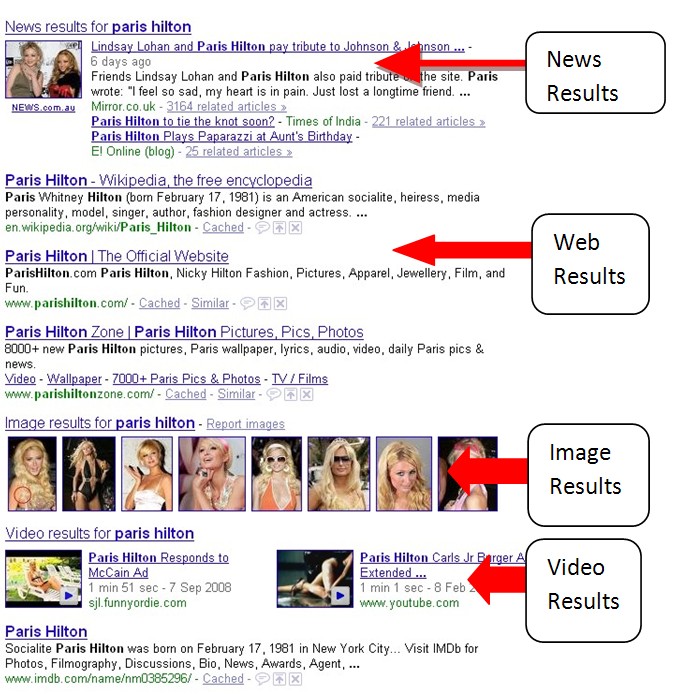 So what do the changes witnessed with the advent of Universal Search mean to your business?
Before we go any further with this one (I'm sure you've noticed the atroticity of the celebrity example we chose), for that I apologize. We're most definitely not fans but Paris is rocking the world of universal search as an example. As you can see her results are a mish mash of several different services Google offers – Google News, web results, image results and video results. Google are doing this with the conscious idea of the web becoming more interactive as bandwidths increase. And if it helps their commercial ventures and bottom lines too then it has to be a wise move for them. But whilst it marks a great opportunity for Google, it also marks a world of opportunity for the a canny business.
The varying results shown in the example above are merely the tip of the iceberg. Other aspects of Google's offering that are very well known to feature prominently in the search results include Google books, shopping, checkout, products, blogs, maps, local, and more. If your business is related to any of these services then a world of opportunity awaits you. As ever I wanna give you a few pointers as to how you can…
Take Advantage of Google Universal Search
Google Local – If you're a small or medium sized business with a loacl client base, this service is a must.  More than that: if you are a business that in any way shape or form is heavily reliant on its  location then sort this out today. Read this post on how to claim your Google local listing.
Video Results – Most businesses could do with some video to grow their brand and raise their profile. It's usually less competitive that featuring in the web results. Google unsurprisingly appears to favour Google Video and Youtube, so uploading where the Google love is, is probably a wise move.
Google News – If you are into publishing or an authority in your field, you should definitely try to get your industry news featured on Google News. Submit content to Google News here.
Google Products – If you're an e-commerce site or sell a lot of products online this is a great place to get all your cool stuff listed. Check out Google products here.
Google Books – pretty self explanatory here. Calling all authors or publishers over to Google Books.
Google Blogs – Blogging can be an incredibly effective way to increase traffic to your site, improve your brand image and source many more clients and partners. First things first. This has always been a great thing – Google loves blogs and posts and pages can rank very easily. And now increasingly journalists and browsers are paying much more attention to the blogging world. Featuring in Google Blogs can be great.
Images – Beautify your business with great graphics and images and they will feature in the search results.
And much, much more.
A general rule of thumb exists… if you notice lots of different results from other Google services for your products and services, then it is time you got in on the act before your competitors do.
Start to explore this world of opportunity  today!
---
Recent Melbourne SEO Services Blog Posts: