A Google Local Listing in One Second Flat
It is increasingly becoming common knowledge in the world of SEO that web localization is one of the biggest trends online right now. Google Universal Search is one of the driving factors behind this recent trend. With videos, books, maps and more and more services showing up in the search results, marketers can now take advantage increasing avenues for content to be found and distributed. And what is arguably the biggest one of these avenues?
Location, Location, Location
Here's 2 reasons why…
When the SERPs return a "Google Local Business Listings" box complete with a map, it instantly draws the browsers eye.  Put simply, it is prominent and striking.
Gaining visibility for local businesses in the listings can be extremely quick and easy.
Take this example from a client who verified their Google Local Listing about two minutes ago: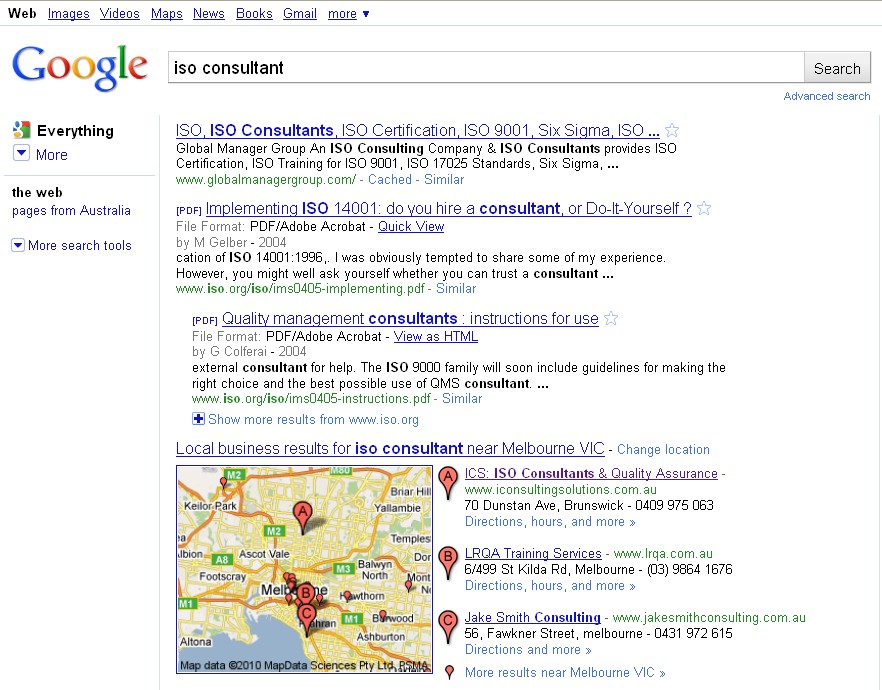 We submitted the optimized Google local listing complete with title, categories, images and more (please click the link for a best practice guide). The client verified the listing. We signed out of our Google account and checked the rankings for one of our major keywords. And Hey Presto! Our client features on the front page in position number one of the listings for "iso consultant". We are not located a million miles away from our client which might account for the listing but even so the result is incredible.
Instantaneous results like that are music to online marketers ears. It really is a no-brainer.
This easy win is an absolute must for any small or medium sized business out there. And come to think of it, it begs the question 'why would you still spend the money for a yellow pages ad'? After all, Google appears to be winning in the Google vs Yellow Pages battle illustrated in this video.